WELCOME TO HIT LIKE A GIRL X • WINNERS ANNOUNCED ON MAY 14!
To All Hit Like A Girl X Participants:
Thank-you doesn't even begin to express how much we appreciate everyone who entered the contest this year. In fact, it has been an honor to watch the phenomenal growth of this community over the past 10 years. And we're not just talking about the explosion of female and gender-expansive people who play drums and make beats. The rising levels of skill, support, musicianship and mutual respect have been off-the-charts, as well.
Although not everyone can be a winner in this contest, everyone can be proud of the part they've played in this revolution. Through your drumming each of you has made an impact that is changing the world step by step, beat by beat and day by day.
— Hit Like A Girl
YOU MUST BE REGISTERED AND LOGGED TO CONTINUE
Zhene is a 9 year old drummer from New Zealand
She started playing drums on empty boxes listening to bands like RHCP and John Butler trio. Her parents finally managed to put together some money to buy her an E-kit
Hi! My name is Nurzade Gargı. I'm 17 years old and I live in North Cyprus. I have been playing drums for 6 years. Since I was a little girl, I've always had an interest in music and percussion. When
Having been raised in a family with musical background, Cana started to develop her love for music at a very young age. She would always play with spoon and fork, singing and pretending to be in a live performance every
I am an 11-year-old singer / songwriter from New York City. Over the past six years I have sung and performed solo, in small groups, and in chorus'. It has only been over the past two years I have written

HLAG 2021 is presented by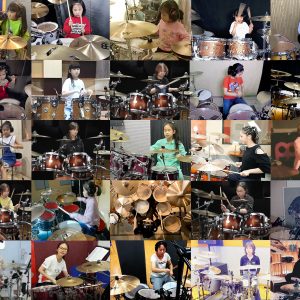 Hit Like A Girl and 9Beats are pleased to announce the completion of another highly successful year for the female drumming contest in China. This year, the 25 top drummers in China were chosen from nearly 700 entries representing 90 cities and generating 20,000 votes and 1.2 million video views.
Read More

→